Places to Order Meat and Seafood Online
Disclosure: Post includes affiliate links.
Over the past decade or so, there's been a gradual migration in our shopping habits. The ease of placing orders through our phone or from the comfort of our desks has transitioned so many purchases from brick and mortar to online. While some people purchase their groceries using delivery services, meat and seafood are among the items that people have generally opted to purchase in person. That is, of course, until everyone was told to practice social distancing and stay at home. Then came the realization that there are plenty of quality websites where you can purchase meat and seafood and all kinds of other delicious items. Here are several sites where you can shop from the comfort of your couch… or desk… or kitchen table… or from your phone as you lounge by the pool. Wherever you decide to surf these sites, be sure to have a napkin available in case your mouth starts to water!
Perdue Farms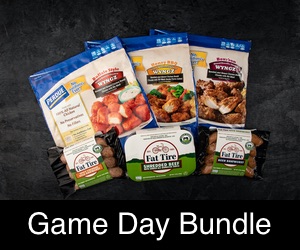 Perdue Farms is more than just Perdue chicken. Their line also includes Niman Ranch, Coleman Natural, Perdue Harvestland, Spot Farms and more. They've grown to become the No. 1 supplier in the U.S. for organic chicken and a leader in premium beef, pork, lamb, pasture-raised, grass-fed, antibiotic-free and non-GMO products.
Read our thoughts on Perdue Farms products!
BUY DIRECT FROM PERDUE FARMS
Use code: FARMER10 for 10% off your order
Snake River Farms
Snake River Farms and Double R Ranch are part of Agri Beef, a family owned and operated business dedicated to producing the highest quality beef and pork in the United States. Founded in 1968 by Robert Rebholtz, Sr., Agri Beef started as a ranching and feeding operation and grown to incorporate every step of the beef lifecycle which includes ranching, cattle feeding, animal nutrition, and beef processing. This comprehensive approach ensures the products that arrive at your door are the best available.
BUY DIRECT FROM SNAKE RIVER FARMS
Omaha Steaks
Omaha Steaks is a fifth-generation family-owned company dedicated to bringing you the absolute best offering premium steaks and gourmet food, delivered. They offer a 100% satisfaction guarantee. "If you are not absolutely thrilled with your purchase from Omaha Steaks, for any reason at all, we'll cheerfully replace your purchase or refund your money, whichever you prefer."
BUY DIRECT FROM OMAHA STEAKS
Crowd Cow
BUY DIRECT FROM CROWD COW
Vital Choice Wild Seafood
Vital Choice has grown into a trusted source of premium wild seafood from healthy, well-managed fisheries around the globe. Since their first day, they've sold only sustainably-caught seafood and donated a portion of profits to planet-protecting programs. In addition to nutrient-dense sustainable seafood, we offer an ever-growing range of pastured proteins, organic foods, and marine-source nutritional supplements.
BUY DIRECT FROM VITAL CHOICE WILD SEAFOOD
Mr. Steak
Mr. Steak grills, seasonings, and grilling tools have been crafted over a lifetime of experimentation at the grill and in the great outdoors. Barbecues, seasonings and grilling products Mr. Steak has perfected after decades of grilling. But Mr. Steak isn't just about BBQ, it's also a lifestyle that embraces adventure, new experiences, and encourages us all to find our zest for life.
BUY DIRECT FROM MR. STEAK
Use Code: BRISKETBURGERS for Free 1/2 lb Brisket Burgers with your order
Holy Grail Steaks
With decades of collective experience in the best steakhouses, abattoirs, pastures, and butcheries, they've spent the last several years with one goal in mind: procure the World's Greatest Steaks. The result is Holy Grail Steak Co., a one-stop, steak nirvana that delivers a never-before-available portfolio of world-class steaks right to your doorstep. They offer certified authentic A5 Kobe Beef, Wagyu & Upper Prime Angus.
BUY DIRECT FROM HOLY GRAIL STEAKS
Grassland Beef
Grassland Beef was founded in 2000 in Monticello, Missouri (pop. 98) by visionary farmers, who saw that big-business cattle-raising practices were taking a toll on our animals and our health. By returning to rotational grazing practices that are good for the planet and good for our cattle, they led the way in introducing a new generation to the unmatched taste, tenderness, and healthiness of grass-fed beef.
BUY DIRECT FROM GRASSLAND BEEF
Lobster Anywhere

LobsterAnywhere is your trusted source for the best Maine lobster delivery to your front door, overnight, guaranteed. They are dedicated to the highest standards and only selects the freshest, sustainably sourced seafood. Available year round from a sustainable fishery and locally caught by independent lobstermen, Lobster Anywhere specializes in Live Maine lobster and frozen lobster tail delivery.
BUY DIRECT FROM LOBSTER ANYWHERE
Sizzlefish

For 30 years Sizzlefish has supplied fish and seafood to the top natural and premium grocery companies in the US. Using years of experience to source, prepare, and package the best seafood, and focus those skills on delivering real performance and health benefits to people. With a mission to supply you with pure natural fish portions, with tools and tips for quick easy preparation, and with honest information about the benefits you are receiving from Sizzlefish products – delivered to your door!
BUY DIRECT FROM SIZZLEFISH
FarmFoods
FarmFoods believes in knowing where the meat is from, how the beef was raised, and what principles the farmer is following. They believe meat should be affordable, without making sacrifices on quality, and that consumers have the right to choose what is right for them, their family and their budget. The role of FarmFoods is to bring affordable choices to consumers where information is trustworthy, and you can feel safe in what you are eating.
BUY DIRECT FROM FARMFOODS
Whether you are looking to purchase now while you stay at home or later when your schedule is too busy to make it to the store, these are premium options to order meat and seafood online. Let us know which ones you end up trying and what you think!
Have you ever ordered online from any of these meat and fish markets?